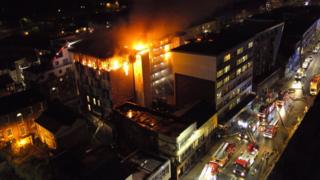 A row has broken out over the reliability of fire alarms after a blaze forced the evacuation of hundreds of students.
Residents fled The Cube in Bolton when the building was hit by Friday's fire, which was tackled by up to 200 firefighters for more than nine hours.
Two were treated at the scene, including one who was rescued by fire crews using an aerial platform.
One resident said many were confused as fire alarms go off "almost every day".
Assistant chief fire officer Dave Keelan, of Greater Manchester Fire and Rescue Service (GMFRS) said: "The fire… really did spread very quickly and that was evident to see on the footage that's on social media."
He said an investigation had been launched into the blaze and confirmed the "cladding on this building was not the same as that on Grenfell", which was destroyed by a fire that killed 72 people in 2017.
Forty fire engines were called to the scene of the blaze, which affected every floor after breaking out at about 20:30 GMT.
Prof George E Holmes, vice-chancellor of the University of Bolton, whose students live at the block, said "very minor injuries" had been reported.
"I can't say enough about how pleased we were with the response – it's been amazing from all emergency services," he said.
Urban Student Life (USL), which owns and manages the property, said all residents were successfully evacuated.
In 2016, the firm was criticised for not providing clear written guidelines on fire safety procedures or displaying fire safety notices in one of its student accommodation blocks in Leeds.
Resident Afnan Gohar said: "The fire alarms go off almost every day so we just thought this was just another false alarm.
"We didn't take notice of it until a girl came running and screamed, telling us to get out and we didn't believe it at first."
Shannon Parker, who also lives in the building, said: "I heard the fire alarm going off but it kept on going off so I just thought it was a drill at first, until one of my flatmates shouted down the corridor that it was a real fire.
"So I ran out the flat as quickly as I could and I saw that it was one of the flats below mine and we went out by the fire exit."
Melissa McGarrigle said alarms in students' rooms did not go off although other alarms were set off inside the building.
"The fire alarms in the corridor went off but they aren't particularly loud, especially if you're asleep.
"It just doesn't feel real, everyone thought it was just the fire alarms acting up as usual until we heard people screaming."
'Engulfed from outside'
Witness Ace Love, 35, said the fire "kept getting more intense, climbing up and to the right because the wind was blowing so hard".
"We could see it bubbling from the outside and then being engulfed from the outside," he added.
"A lot of students got out very fast, someone was very distressed, the rest were on phones calling for help.
"The fire got worse and worse, to the point where you could see through the beams, it was just bare frame."
Videos on social media showed debris falling from the building and firefighters tackling flames coming out of the windows on the top floors.
Eva Crossan Jory, vice president of welfare for the National Union of Students, said it had been "calling for a number of improvements in fire-safety measures in student accommodation".
"It shouldn't take another fire to put the issue of building safety back on the agenda," she said.
"Student safety must always be the first priority for accommodation providers and the government."
Following a tribunal ruling against USL in 2016, Leeds City Council sent the fire authority to inspect the building the firm owns there and decided it was then not fit for use.
'Overhaul UK fire safety'
Matt Wrack, general secretary of the Fire Brigades Union (FBU), said the latest fire was "deeply troubling".
"This is not how any building should react to a fire in the 21st century, let alone a building in which people live," he said.
"It's time for a complete overhaul of UK fire safety before it's too late."
Les Skarratts, of the FBU in the north-west, said there would be "hard lessons to learn as the circumstances become clearer in the coming days".
"Greater Manchester has lost more than 600 firefighters since 2010 alone," he said
Football fans attending Bolton Wanderers' match have been asked to donate items for evacuated residents.
The university said it was supporting students, who are being offered temporary accommodation in other student halls and in some hotels.
GMFRS has asked unaccounted residents to contact authorities to let them know they are safe.
Mr Keelan added a team has "concentrated purely on the high-rises across Greater Manchester to make sure that we learn from Grenfell".
"The evacuation procedure and subsequent training – and putting it into practice last night – has paid absolute dividends," he told a press conference.
"We are going to continue to be here throughout the day and working very closely with the building owner to move this forward in the coming days."