One of the challenges in treating heart failure in India is delayed diagnosis. Most patients come for treatment when the disease is at an advanced stage.
Cardiologists say regular screenings for people with pre-existing heart diseases, history of heart attacks,
hypertension
and diabetes can help identify cases at an early stage and reduce mortality.
According to Dr Sandeep Seth, professor of cardiology at AIIMS, 50% of those diagnosed with heart failure at late stages die within a year. "Patients often don't adhere to the drug regimen and lifestyle changes needed to halt the progression of the disease. This leads to high mortality," he said.

AIIMS runs a heart failure clinic. Here, doctors have appointed heart failure nurses who are trained to counsel the family members of patients suffering from the disease on the importance of taking medicines on time, drinking less fluid, limiting salt consumption and exercising regularly.
Dr Aparna Jaswal, senior cardiologist at Fortis Escorts Heart Institute (FEHI), said heart failure is not the end of life. "Most patients who are diagnosed with heart failure live a normal life with medications," Jaswal said.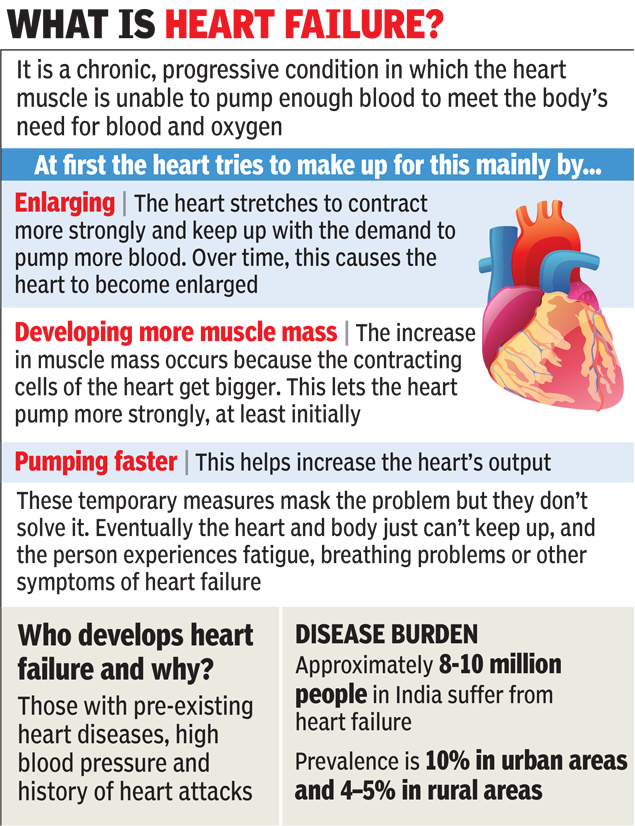 "These days, we also have high-end equipment such as the Left Ventricular Assist Device (LVAD), a machine that mimics the heart's functions. It can be used as a bridge to transplant — the most definite treatment for end-stage heart disease," said Dr K K Talwar, chairman of cardiology, at the Max Super Specialty Hospital. He added that Indian patients end up with heart failure at a younger age compared to those in western countries, such as the US.
A study published by cardiologist Dr Sundeep Mishra in the Indian Heart Journal cites three reports — the THFR, Medanta Registry and INTER-CHF (Indian subset) — to show that the mean age of patients with heart failure in India was 61.2, 58.9 and 56 years respectively, as compared to 72.4 years in the ADHERE registry of the US.
"The etiology of heart failure in India is also different from that in the West. Though Ischaemic Heart Disease (IHD) is the most common etiology both in the US and India, Rheumatic Heart Disease (RHD) is also a major contributor in India but not in the US," Dr Mishra has written. The cardiologists say timely detection and treatment of causative factors such as IHD, RHD and hypertension can help reduce the disease burden significantly.
Sanjay Murdeshwar, the managing director of Novartis in India, said heart failure is a potentially life-threatening and a progressive chronic disease, affecting about 26 million people worldwide with 8-10 million estimated heart failure patients in India alone. "Despite it claiming more lives than cancer, being the largest contributor to hospitalisations in the world and death in old age, the awareness about the disease is abysmal. In our endeavour to reimagine ways of improving and extending the lives of patients, we have collaborated with The Times of India to educate people about symptoms of heart failure and enable early diagnosis of the disease. Around 60% of heart failure patients go undiagnosed or misdiagnosed. We strongly believe that timely treatment of heart failure will help patients stay out of hospitals, live longer and lead better lives."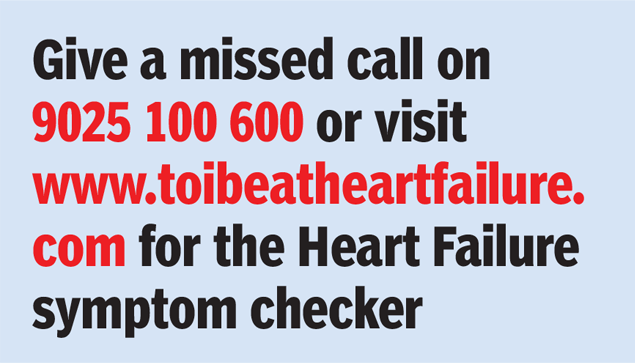 Source link